Biodegradable double wall paper cups with logo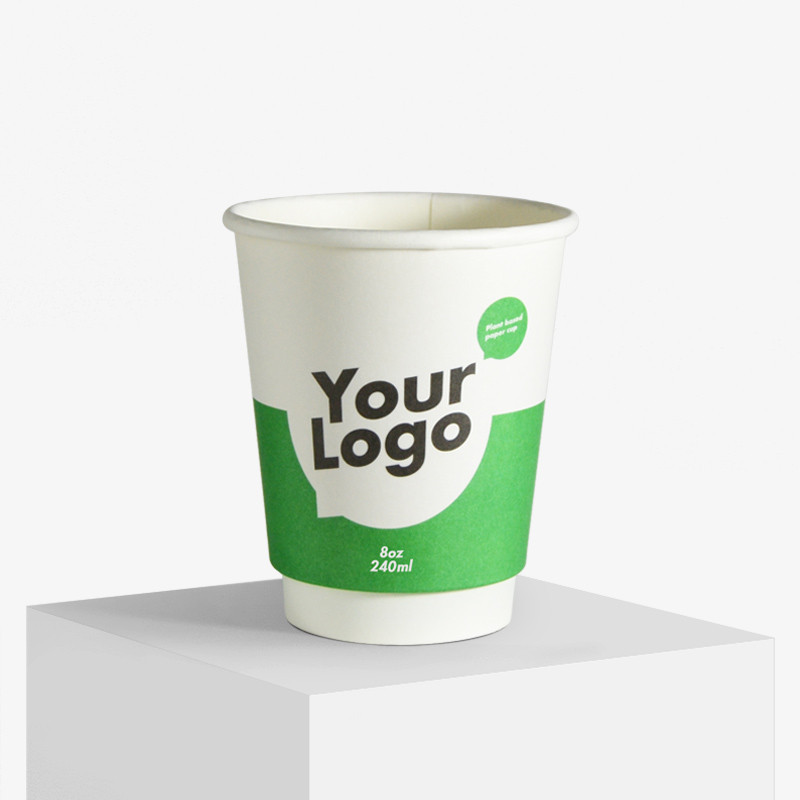 Biodegradable double wall paper cups with logo
Free design help info_outline
3D design proof
105% Price guarantee info_outline
Europe's best prices
Free EU shipping info_outline
Express shipping possible
Are you looking for paper cups that can contain hot beverages without the cups being too hot to carry around? Additionally, you are perhaps searching for a way to tell and communicate a story about your brand in either a 'high-end' or more 'low-key' manner? In that case, double wall paper cups are the answer to your prayers!
Double-wall paper cups are primarily used to serve a cup of black coffee, tea or other hot beverages, that are almost impossible to carry when served in a single wall cup. The double wall paper cups with logo can both be made in a glossy and a matt surface. The glossy surface will give the cups a more 'high-end' touch where the matt surface will give the cups a more 'natural' look.
What about the climate and the environment?
Ordinary double-wall paper cups have a thin layer of plastic inside the cup, that consist of PE-plastic. We make the paper cups biodegradable by replacing the layer of PE-plastic with PLA-plastic. This makes it possible to compost the double wall paper cups in special industrial compost facilities. PLA-plastic makes the paper cups degradable due to the fact that PLA-plastic is made of plant-based materials whereas ordinary plastic cups are made out of oil-extract. However, it is important to bear in mind that the BIO double-wall paper cups cannot degrade in nature, but will have to be tossed in the compost facilities.
What is BIO double-wall paper cups good for? Since the plastic layer is not made of PE-plastic, no oil has been used in the production of the paper cups. This also means that no limited natural resources have been used in production. As a result, this also means that less CO2 is emitted during the production of paper cups.
An extra advantage of BIO-paper cups, is, that they are FSC®-certified. We hereby guarantee that the conditions of the workers in the forestry where the trees come from are of a decent standard. Furthermore, the FSC-certificate guarantees that the trees are being cut down at the same pace as they grow.
Ask us for our FSC certified products. 
Many design options, no additional costs
Offset-print is the most used printing method when printing in larger quantities. Offset as printing method ensures that the print on cup number one is similar to that of cup one million. Along with high-quality printing, you will get a lot of opportunities in terms of creating your design. This is mainly because we use full-colour print which allows you to use a large selection of all colours. You can choose all the colours imaginable without having to pay any extra costs.
To give you even more opportunities when printing double wall paper cups, we can produce them with two different surfaces; glossy and matt. Each of the surfaces allows you to portray your brand in a very unique way. If you are looking for a more natural expression then the matt surface is a good choice, but are you instead of looking for a high-end way to showcase your brand, then the glossy surface is the perfect solution for your coffee to go!
Double-wall paper cups in 3 sizes
As with our standard double-wall paper cups, we can also produce our BIO double-wall paper cups in 3 different sizes. We offer them in the following 3 sizes: 240 ml (8 oz), 350 ml (12 oz) and 450 ml (16 oz). Should you be requesting double-wall paper cups with a textured surface, we can also help you with this!
Where are the cups produced?
Our BIO double-wall paper cups are, just like the rest of our paper cups, made in Europe. This means lower CO2-emission during transportation, high quality, and low prices. At Limepack you can also order paper cups in small quantities delivered in only 7 workdays.
Read more
keyboard_arrow_down
Data sheet
configuration

step
Your custom paper cup design
At Limepack, there are two ways to prepare your custom paper cup design.
Prepare the design yourself
If you would like to create and prepare the design yourself, please use the corresponding layout templates provided for download below. Upload your design when ordering your paper cups.
Get free design help
If you would like to benefit from Limepack's free design help, please upload some relevant artwork or logo when ordering your paper cups, and let us know if you have any instructions. Our design team will prepare a design proof and get back to you.
Regardless of the selected option, we will send you an exclusive 3D proof of your paper cup design for final acceptance before production. More information about the design process can be found on our design page.
Download templates for your design
In this section can you check which certificates our manufacturer has. They have a larger impact on the quality and sustainability of the product than you would think. 
Good manufacturing practice
The organisation who checks and gives this certificate to both manufacturer of packaging for medicine as well as food packaging. The certification is regarding the quality and if the products are aligned with what the consumers expect. 
ISO 9001:2015
ISO-certification is well known around the world and especially ISO 9001:2015 are known as an indicator of the quality of one's products. That is due to that the certification has numerous principles for what describes the quality. 
ISO 14001:2015
This ISO-certification is about sustainability, specifically the environmental effects from the production and if it still complies with the ever-increasing demands for environmentally friendly products. 
FSC®
The FSC trademark is known from a variety of different paper products, and through its widespread use it has become a symbol for sustainability. FSC is working to ensure that all paper material comes from forests which can guarantee a positive effect on the local environment, forest, and employees. We are FSC certified under FSC® C132484, SCS-COC-005763-BC
UNI EN 15593:2008
UNI EN 15593:2008
This is a certification that ensures that the packaging lives up to some basic demands regarding food contact and ensures that there are no materials that could have a negative impact on your health. 
| Size | 240 ml (8 oz) | 350 ml (12 oz) | 450 ml (16 oz) |
| --- | --- | --- | --- |
| Height | 93 mm | 110 mm | 137 mm |
| Diameter top | 80 mm | 90 mm | 90 mm |
| Diameter bottom | 51 mm | 59 mm | 59 mm |
| Weight | 10,97 Gramm | 14,82 Gramm | 18,83 Gramm |
| Surface | Glänzend oder Matt | Glänzend oder Matt | Glänzend oder Matt |
| Printing method | Offset, CMYK | Offset, CMYK | Offset, CMYK |
| Quantity pr. sleeve | 25 | 20 | 20 |
| Quantity pr. box | 500 | 500 | 500 |
| Weight of the boxes, kg | 6,68 | 9,09 | 11,06 |
| Sizes of the boxes | 415x335x510 | 566x368x515 | 564x366x610 |
| Boxes pr pallet | 24 | 16 | 12 |
| Quantity pr. pallet | 12.000 | 8.000 | 6.000 |
Trusted by







"I would 150 percent order from Limepack again. Originally I had difficulty navigating the website slightly but upon reaching out to the design team and customer service team I got support almost instantly. They then followed me through the process and checked in with updates to ensure everything ran smoothly for me. I am so so pleased with Mads and the whole Limepack team and the quality of the product and speed in delivery."
"Thank you for the great cooperation and the prompt processing of our wishes. Thanks to the 3D view, we were able to imagine the cups very well in advance. The result of our new coffee cups has become really great!"
"Great company! Fast, very personal and gigantically good! I will order there again and again. There is no service desert here! Great praise! Rarely something so Professionelle and yet so personal experienced! Making fun is fun!"
"Great service, fast delivery, high quality product."
"Full satisfaction: Top price-performance ratio, great product, fast transaction and great service!"
"Much faster than expected and super implemented :) Highly recommended"
"Well done. For a customer, I needed coffee cups at short notice. Layout draft was perfect. And the quick delivery in 2 weeks. Perfect!"
"Everything went great! Great paper cups and "Express", was really express delivery! Will gladly order again."
"It was a pleasure to buy paper cups with print at Limepack, they responded immediately and understood my needs from the start. They hit exactly the color I was looking for and I am very pleased with my paper cups. I can highly recommend Limepack."
"Professional work, very fast, and great service"
"Thank you for the consistently great service! We love our new paper cups!"
"Very nice paper cups with logo at the best price we could find on the market. You will be guided through the entire process - from the design process to the exact choice of the appropriate paper cup. Highly recommendable!"