Single wall paper cups with print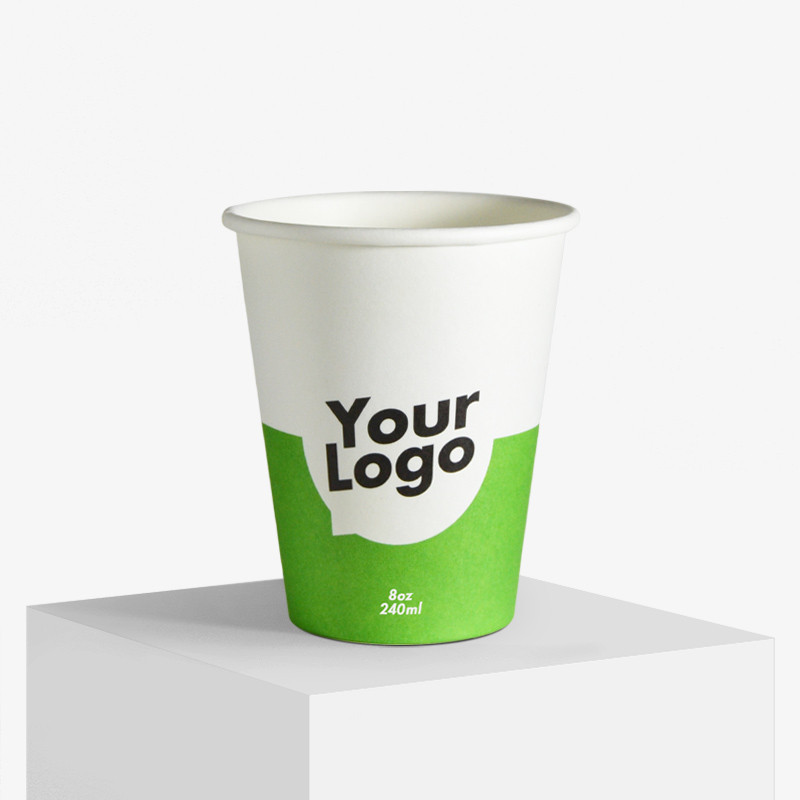 Single wall paper cups with print
Free design help info_outline
3D design proof
105% Price guarantee info_outline
Europe's best prices
Free EU shipping info_outline
Express shipping possible
Being incomparably low-priced and suitable for almost every purpose, the single-wall paper cup is our most popular product. Our clients – especially companies and organizations – use them for a variety of purposes, including internal as well as external marketing activities such as promotions, fairs, expos, corporate events or private parties. Anything from cold to warm beverages (e.g. juices, smoothies, lemonades or coffee) can be served in our single-wall paper cups, making it a very easy and convenient way to present the image of your company in a smooth and attractive way.
Our paper cups can also be offered in a special edition for alcoholic drinks. Please contact us if needed on mail@limepack.de.
Paper cups with print in all the rainbow's colours
All our paper cups are printed in traditional offset-print while using full-color print. This allows you to use as many colours as you like for your design, without any additional costs. Hence, there are no limits to your creativity. All of our colors are neutral in odor and taste. Our single-wall paper cups with logo have a matt surface which gives a natural look and feel.
Production in Europe
We only cooperate with manufacturers within the EU to ensure the best prices, quick delivery, and low minimum quantities. Since all of our printed paper cups are made in Europe, less CO2 is emitted during transportation. From a sustainability point-of-view, this makes perfect sense to us and is better for both you as well as the environment.
Large selection of single-wall paper cups with logo
At Limepack we always work on offering the best products available, which is why we offer paper cups in a large variety of sizes. Our single wall paper cups come in 5 sizes:
'The Shot'
4 oz (110 ml)


'Pick-Me-Up'
7 oz (210 ml)


'Cup-of-Joe'
8 oz (240 ml)


'Mug-a-Chino'
12 oz (350 ml), and;


'The Monday Killer'
16 oz (450 ml)
Our 4 oz cup is perfect for a shot of intense espresso. 
The 7 oz cups are perfectly suitable for a cup of coffee from a coffee machine which is also why they are primarily used together with a coffee machine.  
8 oz paper cups are our most sold size and are used a lot by companies going to fairs and expos or for coffee shops who offer both a large and small cup of coffee. Here the 8 oz is perfectly suited for the small to go cup of coffee. 
The 12 oz single wall cups are used a lot by cafes and cafeterias that only offer one cup-size and still looking to hit that intermediate between a small and yet decent cup of coffee.
The 16 oz or 'The Monday-Killer' as we prefer to call it, is the maxi-size cup that you can pour almost 500 ml of coffee or beverage into. Even though it is a large cup, it is commonly used by a lot of cafes and by several of the larger coffee chains such as Starbucks that also have them in their product range. 
Other purposes for single-wall paper cups
When using paper cups it does not always have to be for the standard black coffee, tea or other beverages. We have had customers who use paper cups for other purposes – get inspired and use them for other purposes as well! 
Whether going to a fair, an expo or whole third type of event, why not experiment a bit and swap the standard black cup of coffee with a snack instead. Be it popcorn, nuts or even insects? Due to the large selection of sizes, it is completely up to you how big an amount you want to hand out.
Are you recruiting or simply targeting students in general? Why not hand out free paper cups with your print in the school cafeteria or canteen. You will bring joy with a refreshing beverage and your paper cups and yourself will create maximum brand awareness and make sure that you will be exposed many times to the students.
Are you serving ice cream or milkshakes, then paper cups can be the optimal choice in order for the cups not being too cold to carry around. 
Read more
keyboard_arrow_down
Data sheet
configuration

step
Your custom paper cup design
At Limepack, there are two ways to prepare your custom paper cup design.
Prepare the design yourself
If you would like to create and prepare the design yourself, please use the corresponding layout templates provided for download below. Upload your design when ordering your paper cups.
Get free design help
If you would like to benefit from Limepack's free design help, please upload some relevant artwork or logo when ordering your paper cups, and let us know if you have any instructions. Our design team will prepare a design proof and get back to you.
Regardless of the selected option, we will send you an exclusive 3D proof of your paper cup design for final acceptance before production. More information about the design process can be found on our design page.
Download templates for your design
All of our paper cups are made in accordance with the EU production standards and are compliant with EU regulative about food packaging. Our exclusive collaboration with highly qualified manufactures awards us with the following valuable certificates:
Good manufacturing practice (GMP) 
A GMP-compliant quality management must always be able to guarantee that food processors produce safe products for the consumer. Effective management, monitoring, action and documentation must be able to demonstrate to competent authorities that company procedures, processes and facilities ensure food safety and comply with regulatory requirements.
Quality System Certification –  ISO 9001:2015
ISO 9001:2015 Quality management standard is the most widespread and among the important standards in quality management (QM), both nationally and internationally. It lays down the minimum requirements for QM that companies have to implement in order to meet customer requirements and other product or service requirements.
Management System Certification – ISO 9001, ISO 14001:2015
ISO 14001: 2015 is the globally accepted and applied standard for environmental management systems and sets out requirements for an organization to improve its environmental performance, fulfill legal and other obligations and achieve environmental objectives. 
Forest Stewardship Council (FSC)
FSC is an international certification system for forestry that guarantees that wood and paper products bearing the FSC seal come from responsibly managed forests. Our biodegradable paper cups with a matt finish are all FSC certified; Only our BIO double wall paper cups with a glossy surface can not be made with FSC certified paper.
Packaging Safety Management System Certified – UNI EN 15593:2008
This standard specifies the requirements for the hygiene management system of food packaging manufacturers and their suppliers, including warehousing and transport. Effective communication along the food packaging chain is essential to ensure that all relevant packaging hygiene failures are identified and properly controlled.
| Size | 115 ml / 4 oz | 210 ml / 7 oz | 240 ml / 8 oz | 350 ml / 12 oz | 450 ml / 16 |
| --- | --- | --- | --- | --- | --- |
| Height | 60 mm | 80 mm | 93 mm | 110 mm | 137 mm |
| Diameter (top) | 62,5 mm | 73 mm | 80 mm | 90 mm | 90 mm |
| Diameter (bottom) | 45 mm | 50 mm | 51 mm | 59 mm | 59 mm |
| Weight | 4,41 G | 6,80 G  | 7,10 G  | 9,34 G | 11,90 G |
| Surface | Matt | Matt | Matt | Matt | Matt |
| Printing method | Offset, CMYK | Offset, CMYK | Offset, CMYK | Offset, CMYK | Offset, CMYK |
| Quantity/sleeve | 50 | 50 | 50 | 50 | 50 |
| Quantity/box | 1000 | 1000 | 1000 | 1000 | 1000 |
| Weight pr. boxes, kg | 4,25 | 5,83 | 8,39 | 11,63 | 13,56 |
| Sizes of the boxes | 310x248x330 | 375x295x360 | 415x335x410 | 455x364x514 | 564x366x545 |
| Boxes pr. pallet | 66 | 48 | 30 | 16 | 12 |
| Quantity pr. pallet | 66.000 | 48.000 | 30.000 | 16.000 | 12.000 |
Trusted by







"I would 150 percent order from Limepack again. Originally I had difficulty navigating the website slightly but upon reaching out to the design team and customer service team I got support almost instantly. They then followed me through the process and checked in with updates to ensure everything ran smoothly for me. I am so so pleased with Mads and the whole Limepack team and the quality of the product and speed in delivery."
"Thank you for the great cooperation and the prompt processing of our wishes. Thanks to the 3D view, we were able to imagine the cups very well in advance. The result of our new coffee cups has become really great!"
"Great company! Fast, very personal and gigantically good! I will order there again and again. There is no service desert here! Great praise! Rarely something so Professionelle and yet so personal experienced! Making fun is fun!"
"Great service, fast delivery, high quality product."
"Full satisfaction: Top price-performance ratio, great product, fast transaction and great service!"
"Much faster than expected and super implemented :) Highly recommended"
"Well done. For a customer, I needed coffee cups at short notice. Layout draft was perfect. And the quick delivery in 2 weeks. Perfect!"
"Everything went great! Great paper cups and "Express", was really express delivery! Will gladly order again."
"It was a pleasure to buy paper cups with print at Limepack, they responded immediately and understood my needs from the start. They hit exactly the color I was looking for and I am very pleased with my paper cups. I can highly recommend Limepack."
"Professional work, very fast, and great service"
"Thank you for the consistently great service! We love our new paper cups!"
"Very nice paper cups with logo at the best price we could find on the market. You will be guided through the entire process - from the design process to the exact choice of the appropriate paper cup. Highly recommendable!"