Plastic cups clear with logo - 6 colour print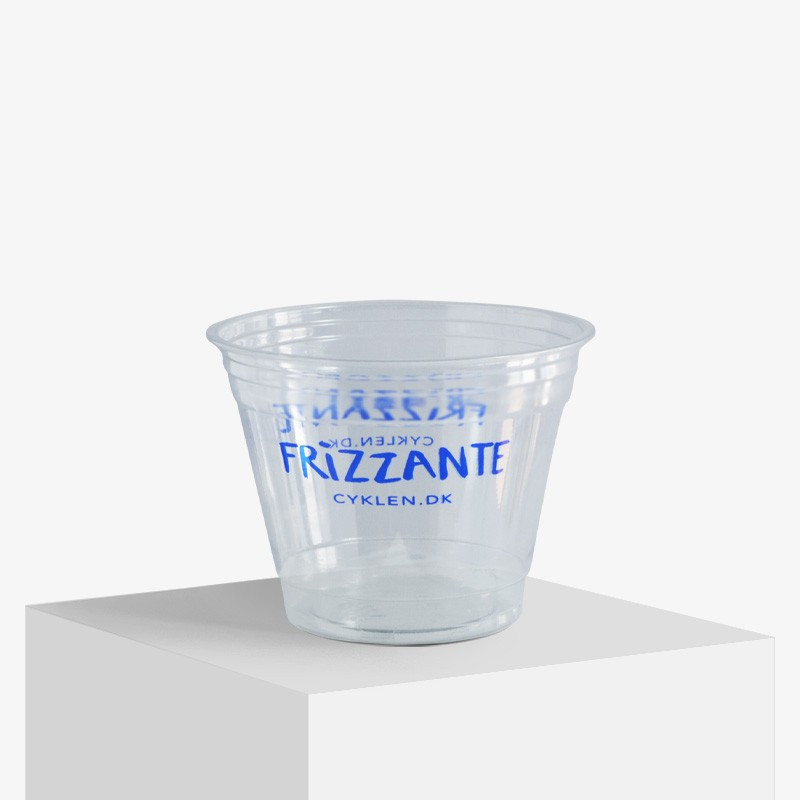 Plastic cups clear with logo - 6 colour print
Free design help info_outline
3D design proof
105% Price guarantee info_outline
Europe's best prices
Free EU shipping info_outline
Express shipping possible
Give your customers a fantastic experience when they bring your smoothies on the go. With 6-colour print for your plastic cups, you can show the full width of your brand story on you, so your customers will never forget you. At the same time, you make sure that your customers remember the taste of exactly your beverages rather than that of your competitors. Promote yourself and your business to your customers in a cheap and simple way.
Make an extra impression on your customers
Let your plastic cups work for you and let them communicate the story about your brand. You can pick up to 6 different pantone colours for the print to your plastic cups. This allows a lot of freedom in your design process, which is mainly due to the fact that pantone colors allow you to make use of almost any colour imaginable. And as we have the option to print with up to 6 colours on the plastic cups, you can combine them as you see fit.
Offset-print on plastic cups
For a long time, offset-print technology has been reserved for printing on paper and flat surfaces. Luckily there has been a development in the printing technology, which has made it possible to deliver plastic cups with offset-print. Offset-print is often used to the production of large quantities ensuring that the print is made with exceptional high quality and precision. The precision ensures that the print is identical, regardless of the quantity you order. The high precision is possible due to the fact that the print is being rolled onto the plastic cups.
Large selection of sizes
Are you looking for plastic cups to your juice bar? Or are you going to serve smaller cocktails at a festival? No problem! we offer 4 different sizes that are for perfect for almost any purpose. We have the sizes in our selection: 9 oz (250 ml), 12 oz (350 ml), 16 oz (450 ml)  and 20 oz (550 ml.
The different cup types provide the opportunity to serve your drink in various sizes. The coating inside the cups make them suitable for beverages such as beer or a milkshake and can be used for both non-alcoholic and alcoholic drinks.
What purposes are the sizes commonly used for?
In general, our plastic cups are mostly used for events taking place over a longer period of time such as festivals or cafes looking to serve iced coffee, smoothies, etc.
The 9 oz (250 ml) is often used to serve cocktail or wine. Be it a stand or boot at an open event or the bar that hands them out to their customers before temporarily going outside with their drink. 
12 oz is a good size for smaller types of drinks whether it is an iced coffee on a café, a milkshake on the burger joint or the smoothie in the juice bar. No matter what purpose your customers are guaranteed a broad selection for your drinks on the go.
The 16 oz is our most common size. It is the perfect size for a Friday beer, but at the same time, it can be used for large drinks such as smoothies, milkshakes or iced coffee.
20 oz is our largest size, and are mostly used for beers and soda for the extra thirsty customer requesting a decent cup size.
Read more
keyboard_arrow_down
Data sheet
configuration

step
EN-ISO 9001:2008
ISO 9001:2008 is a quality management system, that requires a manufacturer to meet legislator's expectations. As a result, we guarantee that all the cups comply with standards for materials that are in contact with food and consequently deliver products that live up to the customer's expectations.
BRC Global Standard for Packaging
The certificate of Global standards for packaging specifies that the product delivered by the manufacturer meet the standards in terms of product safety, high quality and that the internal operational procedures within the respective organization meet the requirements defined by the legislator.
| Size | 250 ml (9 oz) | 350 ml (12 oz) | 450 ml (16 oz) | 550 ml (20 oz) |
| --- | --- | --- | --- | --- |
| Height | 72 mm | 108 mm | 127 mm | 152 mm |
| Top Ø | 95 mm | 95 mm | 95 mm | 95 mm |
| Bottom Ø | 55 mm | 55 mm | 55 mm | 55 mm |
| Weight | 8,8-9,2 g | 11,5-11,9 g | 12,5-13 g | 15,7-16,2 g |
| Materials | PET | PET | PET | PET |
| Surface | Glossy | Glossy | Glossy | Glossy |
| Printing method | Offset, Pantone colours | Offset, Pantone colours | Offset, Pantone colours | Offset, Pantone colours |
| Colours pr. design | 6 | 6 | 6 | 6 |
| Plastic cups pr. box | 1.000 | 1.000 | 1.000 | 1.000 |
| Boxes pr. Euro pallet | 33 | 20 | 16 | 16 |
Trusted by







"I would 150 percent order from Limepack again. Originally I had difficulty navigating the website slightly but upon reaching out to the design team and customer service team I got support almost instantly. They then followed me through the process and checked in with updates to ensure everything ran smoothly for me. I am so so pleased with Mads and the whole Limepack team and the quality of the product and speed in delivery."
"Thank you for the great cooperation and the prompt processing of our wishes. Thanks to the 3D view, we were able to imagine the cups very well in advance. The result of our new coffee cups has become really great!"
"Great company! Fast, very personal and gigantically good! I will order there again and again. There is no service desert here! Great praise! Rarely something so Professionelle and yet so personal experienced! Making fun is fun!"
"Great service, fast delivery, high quality product."
"Full satisfaction: Top price-performance ratio, great product, fast transaction and great service!"
"Much faster than expected and super implemented :) Highly recommended"
"Well done. For a customer, I needed coffee cups at short notice. Layout draft was perfect. And the quick delivery in 2 weeks. Perfect!"
"Everything went great! Great paper cups and "Express", was really express delivery! Will gladly order again."
"It was a pleasure to buy paper cups with print at Limepack, they responded immediately and understood my needs from the start. They hit exactly the color I was looking for and I am very pleased with my paper cups. I can highly recommend Limepack."
"Professional work, very fast, and great service"
"Thank you for the consistently great service! We love our new paper cups!"
"Very nice paper cups with logo at the best price we could find on the market. You will be guided through the entire process - from the design process to the exact choice of the appropriate paper cup. Highly recommendable!"