Ice cream cups with logo – Glossy surface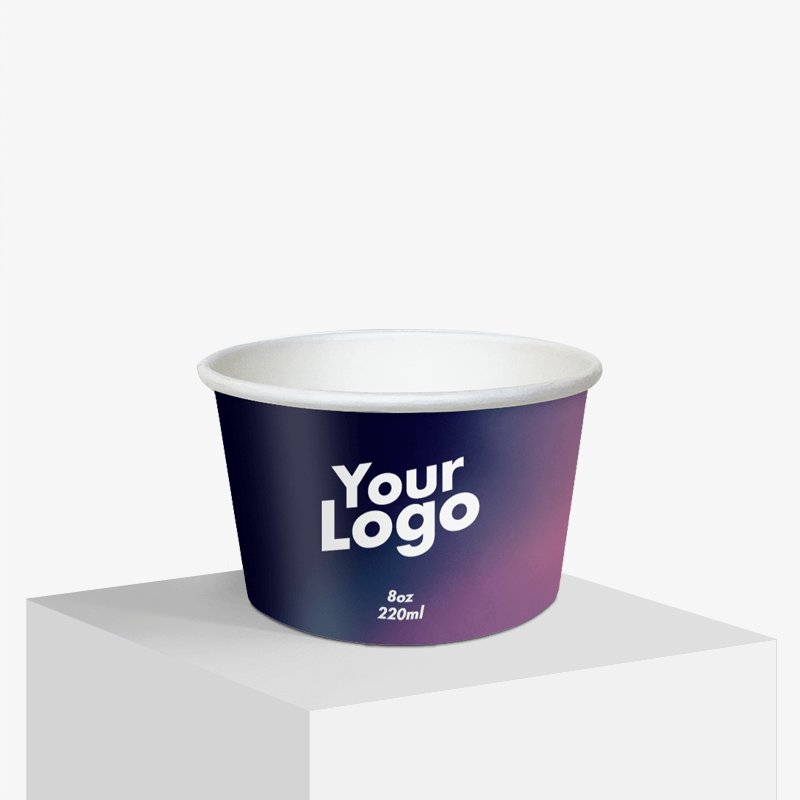 Ice cream cups with logo – Glossy surface
Free design help info_outline
3D design proof
Price guarantee info_outline
No hidden fees
Free EU shipping info_outline
Express shipping possible
Why just be standard? When you can be something extraordinary and make your brand stand out with custom designed ice cream cups. Ice cream cups are the perfect way to differentiate yourself from your competitors and make your customers remember you and your specialties. Our custom design paper cups have a glossy surface which gives your brand a clear and classy look and feel.
Print on ice cream cups is not only for the promotion but also for the whole experience of being at your shop. The print on the ice cream will make the taste of your delicates be more explicit than ever before.
High-quality logo ice cream cups
Our ice cream cups are coated with PE plastic, so they can be used for both liquids and none liquids such as yogurt, fruit, ice cream and etc. Our ice cream cups are made of high-quality paperboard from Stora Enso Cupforma, who are specialized in making paperboards for paper containers.
Since our ice cream containers with logo are made of paper, they can be used in a variety of settings such as fairs, the ice cream stand at the beach and fruit desserts at a restaurant.
Full-color printed ice creams cups with your logo
Our ice cream cups are printed in traditional offset-print and we use CMYK-colors (full-color printing). Full-color printing allows us to print in all of the rainbow's colors without any additional cost. Hence you will have 360 degrees of freedom in your designing process. All of our colors are neutral in odor and taste.
Large selection of custom design printed ice cream cups
By standard, we do only have ice cream cups in 8 oz (220 ml) and 12 oz (350 ml), but are you looking for something special?  No worries, we work closely with other manufacturers who give us the possibility to offer both smaller and larger sizes. Contact us and we will gladly help you with finding the right solution.
European production
We source and find the best manufacturers within the EU to ensure great prices, fast delivery in just 3 weeks and low minimum order quantities from 1200 pcs. All of our manufacturers are ISO certified in both quality management and sustainability, which ensures printed ice cream containers of high quality.
Since all of our custom design ice cream cups are made in Europe, there will be less CO2 emitted during transportation. This is both good for you and the environment.
Printed ice cream cups made available for Everybody
We work tirelessly to make ice cream cups available for everybody by offering low minimum order quantities from just 1200 pcs, low prices, fast delivery in just 3 weeks or even 7 days if urgently needed. We will also gladly help you with free design help and you will get a 3D preview before we send your cups to production.
If you ever have a question about quality, price or anything else, our customer service will be happy to support and answer all your questions.
Read more
keyboard_arrow_down
Data sheet
configuration

step - receive 3d
Templates for download
All of our Ice Cream cups are produced according to the EU production standards and regulatives of making food contact materials. We only work with manufacturers who live up to a high standard during the whole process of making the printed ice cream cups. Our manufacturers of ice cream cups comply with the following certificates:
Good manufacturing practice (GMP) 
A GMP-compliant quality management must always be able to guarantee that food processors produce safe products for the consumer. Effective management, monitoring, action and documentation must be able to demonstrate to competent authorities that company procedures, processes and facilities ensure food safety and comply with regulatory requirements.
Quality System Certification –  ISO 9001:2015
ISO 9001:2015 Quality management standard is the most widespread and among the important standards in quality management (QM), both nationally and internationally. It lays down the minimum requirements for QM that companies have to implement in order to meet customer requirements and other product or service requirements.
Management System Certification – ISO 9001, ISO 14001:2015
ISO 14001: 2015 is the globally accepted and applied standard for environmental management systems and sets out requirements for an organization to improve its environmental performance, fulfill legal and other obligations and achieve environmental objectives. 
Packaging Safety Management System Certified – UNI EN 15593:2008
This standard specifies the requirements for the hygiene management system of food packaging manufacturers and their suppliers, including warehousing and transport. Effective communication along the food packaging chain is essential to ensure that all relevant packaging hygiene failures are identified and properly controlled.
| Size | 240 ml (8 oz) | 350 ml (12 oz) |
| --- | --- | --- |
| Height | 55 mm | 68 mm |
| Top Ø | 95 mm | 105 mm |
| Bottom Ø | 78 mm | 85 mm |
| Weight | 8,3 g | 10,25 g |
| Paper thickness (gsm) | 295+18PE | 295+18PE |
| Surface | Glossy | Glossy |
| Printing method | Offset, CMYK colors | Offset, CMYK colors |
| Ice cream cups pr. box | 1500 pcs. | 1200 pcs |
"Thank you for the great cooperation and the prompt processing of our wishes. Thanks to the 3D view, we were able to imagine the cups very well in advance. The result of our new coffee cups has become really great!"
"Great company! Fast, very personal and gigantically good! I will order there again and again. There is no service desert here! Great praise! Rarely something so Professionelle and yet so personal experienced! Making fun is fun!"
"Great service, fast delivery, high quality product."
"Full satisfaction: Top price-performance ratio, great product, fast transaction and great service!"
"Much faster than expected and super implemented :) Highly recommended"
"Well done. For a customer, I needed coffee cups at short notice. Layout draft was perfect. And the quick delivery in 2 weeks. Perfect!"
"Everything went great! Great paper cups and "Express", was really express delivery! Will gladly order again."
"It was a pleasure to buy paper cups with print at Limepack, they responded immediately and understood my needs from the start. They hit exactly the color I was looking for and I am very pleased with my paper cups. I can highly recommend Limepack."
"Professional work, very fast, and great service"
"Thank you for the consistently great service! We love our new paper cups!"
"Very nice paper cups with logo at the best price we could find on the market. You will be guided through the entire process - from the design process to the exact choice of the appropriate paper cup. Highly recommendable!"