July 13, 2021
Dear Limepack customers.
As some of you have noticed, we have had to increase our delivery times on a wide range of products, during the past months. This is not something we take lightly. We started Limepack precisely to offer shorter delivery times, smaller minimum order quantities and at good prices.
But we and our production partners unfortunately have no choice in the matter, there simply isn't enough capacity. Staff and machines are already working 24/7, on a large range of the products we offer. And the problem is not limited to one or two manufacturers, but something that is impacting every business in the cardboard and takeaway packaging industry in Europe. And the problems are only compounded by the increasing lack of cardboard in Europe, both due to the increase in demand, but also because one of the largest European cardboard mills moved forward their planned closure of a mill, as 2020 demand was very low, hurting the profitability.
There are multiple reasons, but it all boils down to being the aftermath of the Corona lockdowns. With Corona lockdowns, a lot of people have taken their disposable income, normally spent on experiences, eating out, travelling etc., and used it on physical goods instead (Article). Although manufacturing in Europe is on the rise for a lot of goods, most of these goods are produced in Asia, requiring transportation in containers. This combined with recent lockdowns at containerports, namely in China have meant that the price of containers to Europe have skyrocketed (over 5x) impacting all kinds of goods.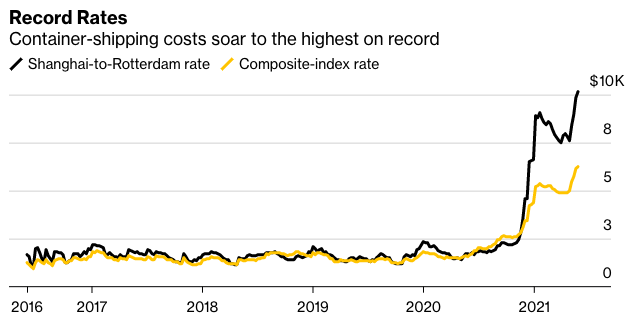 Source: bloomberg.com
Unfortunately, much of the packaging used in Europe is sent on those same containerships from Asia – and imported packaging being a relatively cheap product group has been priced out of the market. – a container full of TVs is just worth more than paper cups.
This results in packaging companies who normally manufacture in Asia being forced to suddenly move large parts of their production demand to Europe – putting even more pressure on the production capacity both in factories and cardboard mills. We and our manufacturers desperately wish that there was a way to offer faster deliveries and we continue to out to our wide range of partners to try and move production orders to places where there is more room for them – and will let you know on our newsletter when faster options open up.
In the meantime we strongly advise customers to order in advance of their needs.
Here listed is our current lead times on our products which we will be updating as soon as any changes happen. As the market is right now, we can't promise that we won't have to extend some of them in the future.
Current times from order to delivery
Original delivery time in parentheses
Paper cups, regular and plastic free: 6 weeks

(3 weeks)

Paper cups, alcohol proof: 6-8 weeks

(3 weeks)

Ice cream cups: 7 weeks (

4 weeks)

Food cups and ice cream cups with lids: 7 weeks

(4 weeks)

Plastic cups, offset (1 colour): 5 weeks

(4 weeks)

Plastic cups, pad (1-4 colours): 8 weeks

(7 weeks)

Plastic cups, flexo (1-6 colours): 8 weeks

(4-6 weeks)

Greaseproof paper: 4 weeks

(3 weeks)

 *Express options still available
Food paper: 7 weeks

(6 weeks)

Paper bags: 7-14 weeks (size dependent)

(6 weeks)

Salad bowls: 7-10 weeks (size dependent)

(5 weeks)

Paper straws: 5 weeks (4 weeks in UK)

(4 weeks)

Wet wipes: 4 weeks

(4 weeks)

Bread bags: 7 weeks

(5 weeks)

Popcorn boxes: 4 weeks

(3 weeks)

Custom cardboard products: 6-14 weeks

(4-7 weeks)
When will it end?
The lack of containers from Asia to Europe is expected to be going on until at least 1st quarter 2022 - which means that the lack of cardboard for cups and packaging could stretch as long as into the 2nd quarter of 2022. 
We expect some delivery times to begin to fall before that, as ice cream and paper cups are less used in the winter period, but since the cardboard crunch is expected to go on longer - the delivery times might very well increase again in early spring 2022.