Batch single wall paper cups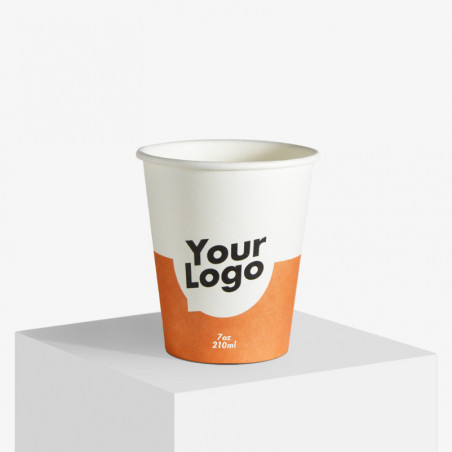 Batch single wall paper cups
Free design help
3D design proof
105% Price guarantee
Europe's best prices
Free EU shipping
Express shipping possible
We are always working to make our services and products available for the many, and that also means we want to be able to offer products at great prices. We, therefore, started working with a manufacturer who does batch production of paper cups with print, and who can thus lower the prices of the cups.
When doing batch production the delivery time will however be longer than on our standard paper cups. So with these batch single wall paper cups you will have approximately save around 15% versus our standard single wall paper cups. The delivery time is though 6 weeks instead of the normal 3 weeks.
Large selection of size and in your design
With our batch produced single wall paper cups we offer a large selection sizes, where we both offer 4 oz (115 ml.), 7 oz (210 ml.), 8 oz (240 ml.), 12 oz (350 ml.), 16 oz (450 ml.). So if you are a café and looking for something to both serve your espresso shot on the go, and your large cup of coffee then we got the cups for you!
The opportunities are just as many when it comes to the design, where we print the cups with full-colour print(CMYK) which means that you can use as many colours in the design as you want without having to pay anything extra. The surface is just as a flyer that has been folded into a cup, so you can also 360 degrees on the cup. 
The surface of the cups is matt, so it gives the cup and the design a more natural and environmental look.
We do unfortunately not offer our batch produced single wall paper cups with print in a biodegradable solution. The paper cups will be coated with a small layer on PE coating on the inside of the cups.
Primarily used by 
Due to their lower prices and the large selection of sizes in the paper cups, this product is mostly used by smaller cafés and restaurants who would like to get their brand in the hand of their customers. We also offer free design help, which means that the café or restaurant do not need to pay additional to get an external designer to make the design for them.
We believe in making branded to-go packaging affordable for everyone. 
We do not offer any express services for these batch produced cups, since the manufacturer will first start the production when they have enough cups to hit the low prices that we offer. if you are in a hurry, then please have a look at our bestseller single wall paper cups.
European quality
We always ensure that our products have a high quality, and even though these are cheaper than our bestsellers, they still have the European quality that we always want to offer. The production in Europe also ensures that we have a minimum order quantity of a 1.000 pcs. pr. design and size. Production in Europe is great for the climate due to the low co2 emission during transportation. 
Read more
Data sheet
configuration

step - receive 3d
Let us handle the design
Would you like free design assistance? We're here to help! Contact us, or simply upload your artwork while ordering.

Our design team will then send you a free proof of a design for your approval. Request changes for free, until you are satisfied.
Handle the design yourself
We offer you an easy way to set up your design yourself. Download a template below, and follow the instructions within the template.
We suggest you working with our templates in Adobe Illustrator.

While ordering, simply upload your design. Our design team will then send you a free proof for your approval. Request changes for free, until you are satisfied.
| Size | 115 ml / 4 oz | 210 ml / 7 oz | 240 ml / 8 oz | 350 ml / 12 oz | 450 ml / 16 oz |
| --- | --- | --- | --- | --- | --- |
| Height | 60 mm | 80 mm | 93 mm | 110 mm | 137 mm |
| Diameter (top) | 62,5 mm | 73 mm | 80 mm | 90 mm | 90 mm |
| Diameter (bottom) | 45 mm | 50 mm | 51 mm | 59 mm | 59 mm |
| Weight | 4,41 G | 6,80 G  | 7,10 G  | 9,34 G | 11,90 G |
| Surface | Matt | Matt | Matt | Matt | Matt |
| Printing method | Offset, CMYK | Offset, CMYK | Offset, CMYK | Offset, CMYK | Offset, CMYK |
| Quantity/sleeve | 50 | 50 | 50 | 50 | 50 |
| Quantity/box | 1000 | 1000 | 1000 | 1000 | 1000 |
| Weight pr. boxes, kg | 4,25 | 5,83 | 8,39 | 11,63 | 13,56 |
| Sizes of the boxes | 310x248x330mm | 375x295x360mm | 415x335x410mm | 455x364x514mm | 564x366x545mm |
| Boxes pr. pallet | 66 | 48 | 30 | 16 | 12 |
| Quantity pr. pallet | 66.000 | 48.000 | 30.000 | 16.000 | 12.000 |
Delivery options
Delivery times that match your needs.
Free standard delivery
Order now and get free delivery on this product by 28/05/2021
Express shipping possible
In a hurry? No worries. We can calculate an express delivery for this product. Contact us for further information.
Trusted by







"I would 150 percent order from Limepack again. Originally I had difficulty navigating the website slightly but upon reaching out to the design team and customer service team I got support almost instantly. They then followed me through the process and checked in with updates to ensure everything ran smoothly for me. I am so so pleased with Mads and the whole Limepack team and the quality of the product and speed in delivery."
"Thank you for the great cooperation and the prompt processing of our wishes. Thanks to the 3D view, we were able to imagine the cups very well in advance. The result of our new coffee cups has become really great!"
"Great company! Fast, very personal and gigantically good! I will order there again and again. There is no service desert here! Great praise! Rarely something so Professionelle and yet so personal experienced! Making fun is fun!"
"Great service, fast delivery, high quality product."
"Full satisfaction: Top price-performance ratio, great product, fast transaction and great service!"
"Much faster than expected and super implemented :) Highly recommended"
"Well done. For a customer, I needed coffee cups at short notice. Layout draft was perfect. And the quick delivery in 2 weeks. Perfect!"
"Everything went great! Great paper cups and "Express", was really express delivery! Will gladly order again."
"It was a pleasure to buy paper cups with print at Limepack, they responded immediately and understood my needs from the start. They hit exactly the color I was looking for and I am very pleased with my paper cups. I can highly recommend Limepack."
"Professional work, very fast, and great service"
"Thank you for the consistently great service! We love our new paper cups!"
"Very nice paper cups with logo at the best price we could find on the market. You will be guided through the entire process - from the design process to the exact choice of the appropriate paper cup. Highly recommendable!"
Previous
Next